The story below explains all! Article from the Bloodhorse, and photo by Jim McCue/Maryland Jockey Club
Race seven at Laurel Park in Maryland literally went down to the wire Oct. 8 as four horses arrived at the finish line together, resulting in a rather unique climax, a dead heat for first and a dead heat for third.
The one-mile test on the firm turf was for optional claiming runners. A final charge to the finish line included 21-1 shot Rockaby Bay and Masterel, who finished on even terms for the win and a bang-bang finish by Elkhorn Creek and Colonel Bill, who tied for third, just a neck behind the winners.
"I've never seen that in all my years," said track announcer Dave Rodman, who has called races since 1981. "There have been dead heats for the win and off the board runners, but never one for win and show in the same race."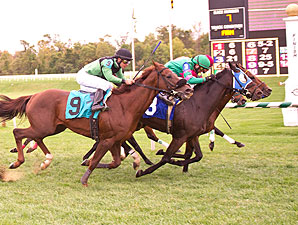 Luis Garcia and Rockaby Bay returned to the winners's circle to be photographed with trainer Hamilton Smith. Jockey Chris DeCarlo and Masterel represented Graham Motion when it was their turn to pose for the photo.{jcomments on}